Analog and Mixed-Signal Custom ICs
Analog and
Mixed-Signal
Custom ICs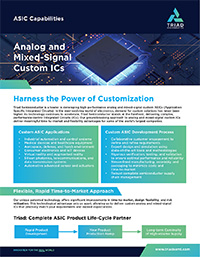 Harness the Power of Customization
Triad Semiconductor is a leader in developing high-performance analog and mixed-signal custom ASICs (Application Specific Integrated Circuits). In the ever-evolving world of electronics, demand for custom solutions has never been higher. As technology continues to accelerate, Triad Semiconductor stands at the forefront, delivering complex, performance-centric Integrated Circuits (ICs). Our groundbreaking approach to analog and mixed-signal custom ICs deliver meaningful time-to-market and flexibility advantages for some of the world's largest companies.
Custom ASIC Applications
Industrial automation and control systems
Medical devices and healthcare equipment
Aerospace, defense, and harsh environment
Consumer electronics and IoT devices
Virtual reality and augmented reality
Silicon photonics, telecommunications, and data transmission systems
Automotive advanced sensor and actuators
Custom ASIC Development Process
Collaborative customer engagement to define and refine requirements
Expert design and simulation using state-of-the-art tools and methodologies
Rigorous verification, testing, and validation to ensure optimal performance and reliability
Streamlined manufacturing, assembly, and packaging to minimize costs and time-to-market
Robust complete semiconductor supply chain management
Flexible, Rapid Time-to-Market Approach
Flexible, Rapid Time-to-Market Approach
Our unique patented technology offers significant improvements in time-to-market, design flexibility, and risk mitigation. This technological advantage sets us apart, allowing us to deliver custom analog and mixed-signal ICs that precisely match your requirements and exceed expectations.
Triad: Complete ASIC Product Life-Cycle Partner

Twenty+ years experience as a trusted supplier of high-performance mixed-signal ASIC solutions for mission critical applications.
Over 130-million production ICs shipped.
World-class IC engineering team: Triad attracts and retains analog and digital engineers with many years of collective experience who have released 100s of
production devices.
Broad analog and digital signal-chain knowledge across circuits and applications.
Unique, patented, and rapid mixed-signal IC development technology that affords our partners with meaningful time-to-market, risk mitigation, and flexibility advantages.
Robust project management and engagement-proven development process that keeps you fully appraised
of your ASIC development and keeps projects on schedule and budget.
Global fabless semiconductor supply-chain management led by a team of semiconductor industry veterans that oversee operations, quality, and logistics of state-of-the-art wafer fabrication, package assembly, and production test.
Qualification capabilities: MIL-STD, automotive AECQ100, commercial JESD47, or customized.
Triad certifications: ISO 9001:2015.
Compliance: ITAR registered.
Commercial temperature: -45 to 85C, automotive grade 1,2,3 and military -55 to 125C test.
Speciality Drivers & Rcvrs
High-res (24-bit), Sigma-Delta, PWM, R2R, C2C, Flash, Pipelined, SAR, Current DACs
Op-Amp, TIA, OTA, Integrators, Complete AFEs
Bandgap References, LDO, Buck, Boost, Buck/Boost, Charge Pumps, Over 100V
SPI, QSPI, I2C, I3C, UART, RS485, Custom
State Machines, Custom Sequencers, DSP, Digital Filters, Controllers
VCSEL, Laser Diodes, Shaped Memory Alloy, MEMs Speaker, MEMs Microphones
8051, Arm Cortex, RISC-V, RAM, ROM, OTP, MTP, EEPROM, Flash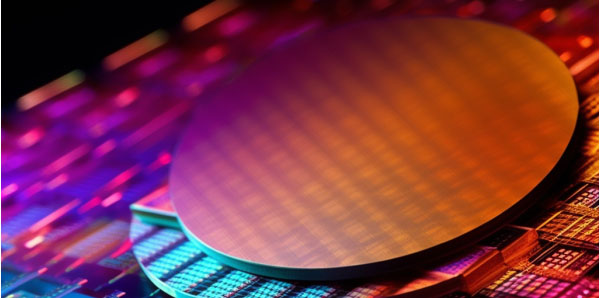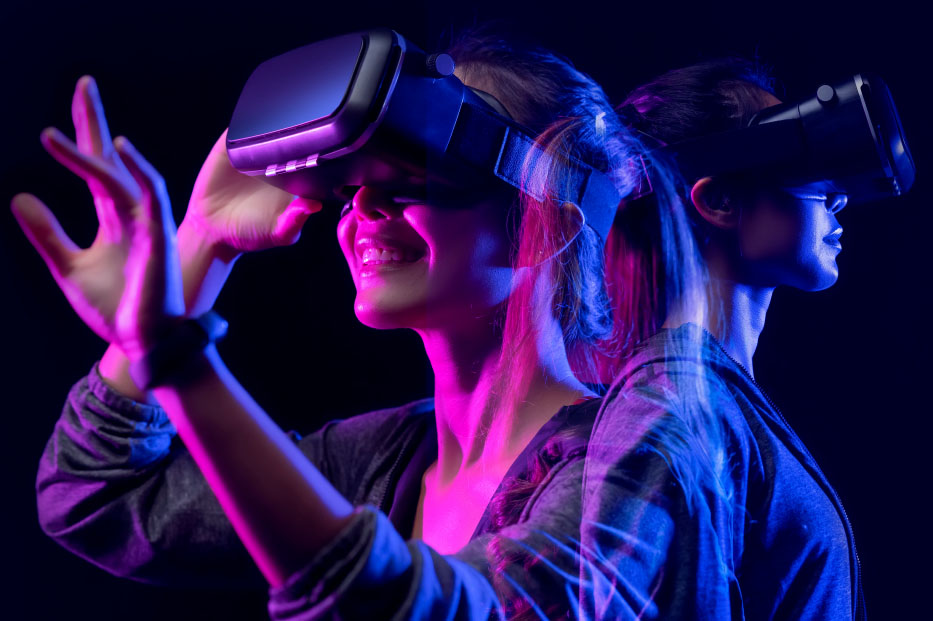 Getting Started
If you have an analog or mixed-signal application in need of integration, we encourage you to explore the possibility of converting your idea into a reality as a Triad ASIC. To schedule an initial discovery meeting, please contact us:
www.triadsemi.com/contact
info@triadsemi.com
+1 (336) 774-2150