Virtual Reality and Augmented Reality
Triad solutions deliver immersive experiences that transcend real and virtual worlds.
VR/AR Applications
Tracking Solutions in General
SteamVR tracking
Object tracking (head mounted display, controllers)
Trackers that can be placed on non-traditional VR object to turn them into tracked objects
Eye tracking
Hand tracking
Face tracking
VR/AR Product Areas
SteamVR tracking ICs – TS4631
VCSEL drivers for hand tracking
Laser light receivers for eye tracking
VCSEL drivers for eye tracking
VCSEL drivers for room depth mapping
Triad audio solutions bring studio-quality sound to all the moments of your life.
Sound so real it is like being there.
Audio Applications
Audio interface
MEMs speakers
Audio Product Areas
TS5510 stereo microphone / line interface
MEMs speaker driver
Powering a safer, more enjoyable driving experience.
Automotive Applications
In-cabin comfort, anti-fatigue and well-being
In-cabin monitoring
ADAS LIDAR
Automotive Product Areas
Shape memory alloy valve drivers
VCSEL drivers for in-cabin illumination for distracted driver monitoring and occupancy sensing
VCSEL drivers for LIDAR depth sensing and mapping
Enhancing healthcare outcomes with cutting-edge technology.
Medical Applications
Pain management and electrotherapy devices, such as TENS and electro-muscular stimulation systems
Advanced surgical tools and equipment for minimally invasive procedures
Smart surgical inventory management systems for enhanced efficiency and patient safety
Continuous glucose monitoring devices for improved diabetes management
Wearable health monitors and fitness trackers for proactive wellness
Medical Product Areas
High-voltage boost and H-bridge solutions for TENS and electro-muscular stimulation
Precision analog front-end ICs for sensor signal conditioning in diagnostic devices
Power management ICs for energy-efficient medical devices and wearables
High-speed data converters for accurate signal processing in critical healthcare applications
Empowering smart solutions with advanced sensor technology.
Triad's sensor ICs are the bridge between real-world and exciting emerging applications, enabling intelligent, connected systems that revolutionize industries and enhance everyday experiences.
Sensor Applications
Environmental monitoring systems for air quality, temperature, humidity, and pollution
Industrial automation and control for process optimization and safety
Smart buildings and cities with advanced energy management, security, and comfort features
Healthcare wearables and devices for proactive wellness and patient monitoring
Sensor Product Areas
Sensor interface ICs for seamless communication and data transmission
Analog front-end ICs for accurate sensor signal conditioning and processing
Power management ICs for energy-efficient sensor systems and devices
High-speed data converters for precise sensor data processing and analysis
Silicon Photonics / Optical Communication
Empowering Terabit-speed, energy-efficient data transmission.
Triad's innovative Silicon Photonics solutions propel the future of high-speed, energy-efficient data transmission, revolutionizing connectivity in our real world.
Silicon Photonics / Optical Communication Applications
Triad delivers analog and mixed-signal integrated circuits for the real-world management of the world's most advanced silicon photonics solutions. Triad ICs are companion devices for deep-submicron optical communications ICs. Triad devices pack dozens of analog sensing, control, temperature monitoring, and heating control into miniature devices that enable the power efficiency and space optimization required to bring terabit communication to hyperscale data centers and AI-driven high-performance compute (HPC) infrastructure.
Trusted semiconductor supplier for demanding applications in harsh environments for over twenty years.
Delivering trusted, high-rel performance in the most demanding conditions.
Harsh Environment Applications
Satellite communication systems and space exploration missions
Defense communication, radar, and navigation systems
High-altitude aviation electronics and avionics
Radiation monitoring and measurement equipment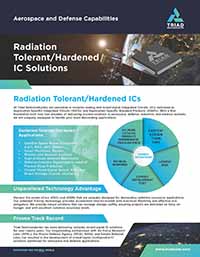 View our information and download our brochure: "Radiation Tolerant/Hardened IC Solutions".
Harsh Environment Product Areas
Radiation-hardened standard products for aerospace and defense applications
Custom application-specific integrated circuits (ASICs) tailored to specific harsh environment requirements
Analog and mixed-signal ICs with built-in radiation-tolerant features
Power management and data conversion solutions for radiation-hardened systems
Analog and Mixed-Signal Custom ICs (ASICs)
Tailored solutions for unique challenges and applications.
Custom ASIC Applications
Industrial automation and control systems
Medical devices and healthcare equipment
Aerospace, defense, and harsh environment applications
Consumer electronics and IoT devices
Virtual Reality and Augmented Reality
Telecommunications and data transmission systems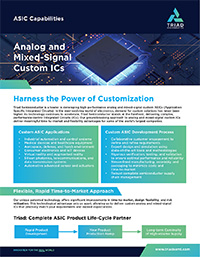 View our information and download our brochure: "Analog and Mixed-Signal Custom ICs".
Custom ASIC Development Process
Collaborative customer engagement to define and refine requirements
Expert design and simulation using state-of-the-art tools and methodologies
Rigorous verification, testing, and validation to ensure optimal performance and reliability
Streamlined manufacturing, assembly, and packaging to minimize costs and time-to-market
Robust complete semiconductor supply chain management